Shows the ways people's lives are being valued, explaining the methods involved, and then forcefully argues against the rampant unfairness in the system.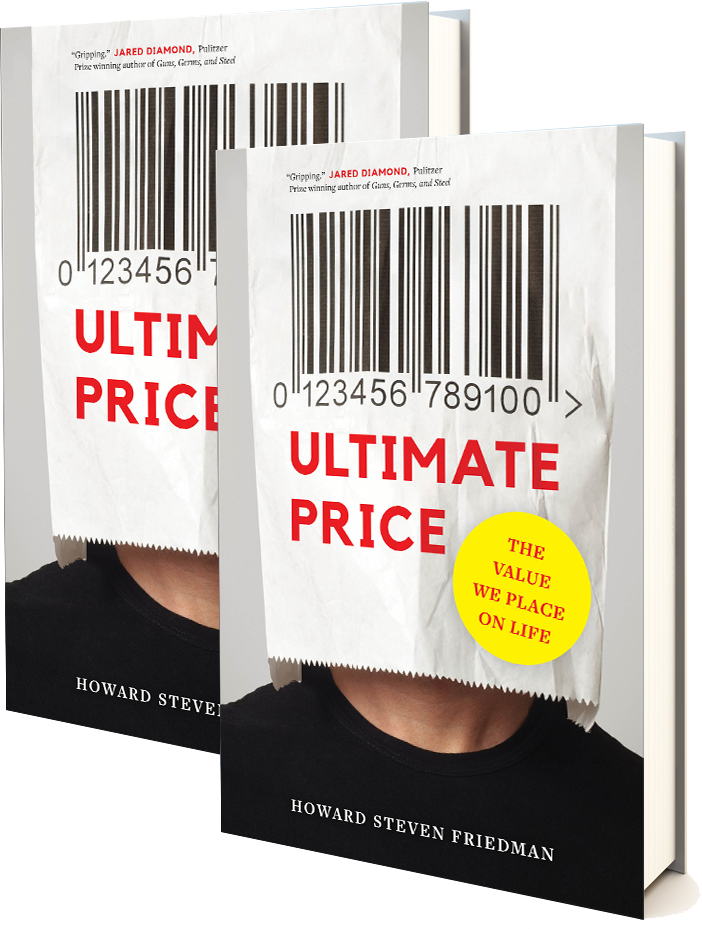 "This gripping book is essential reading for a topic that you'd like to avoid but can't."
– Jared Diamond, Pulitzer-Prize-winning author of Guns, Germs, and Steel and other best-selling books.
What are you worth, and to what ends? Individuals, families, and systems place a price on human life every day with the decisions they make. These human price tags combine both economic and social values, the wallet and the heart; from insurance payouts to carceral sentencing, we see discrepancies in the value of some human lives over others. 
The calculations that underlie these price tags and the dramatic ramifications they have on our lives are often buried in technical language. 
These price tags are sometimes unfair, yet they influence our economy, our laws and policies. In Ultimate Price, Howard Steven Friedman explains in simple terms how economists, corporations, regulators, and insurance companies make and use these price tags and illustrates how chauvinistic, white supremacist, or elitist values are reflected in them. 
He shows a multitude of ways people's lives are being valued, explains the methods involved, and then forcefully argues against the rampant unfairness in the system. 
Readers will be enlightened, shocked, and angered by the details of how these critical calculations work, as well as by the issues and implications hidden inside these impersonal equations that affect us all.
Available for Order
Data Scientist, Health
Economist, Author
Howard Steven Friedman (born June 10, 1972) is a data scientist, health economist, and writer with decades of experience in the private sector, public sector and academia.
Friedman's private sector experience includes being a director at Capital One where he led teams of statisticians, analysts and programmers in various areas of operations and marketing. Later he founded a number of companies focused on data analytics with a focus on health care, finance, telecommunications, and retail. He also has specific experience supporting private equity firms where he has led analytic teams on projects, communicated to senior executive and lay-audiences, and taught data science to technical and non-technical teams.
His public sector work has focused on public health and applications of data science and statistics. This work has included leading many research projects for governments and international organizations.
His academic work includes teaching at data science, statistics, and program evaluation at Columbia University. He has authored/co-authored over 100 scientific articles and book chapters in areas of applied statistics, health economics and politics.
In June 2012, Prometheus Books released his book Measure of a Nation. This book focuses on how to improve America by first comparing its performance with thirteen competitive industrial nations, then identifying the best practices found throughout the world that can be adopted here in the United States. Measure of a Nation was named by Jared Diamond as the best book of 2012 in an interview published in the New York Times.
Friedman's other published books include three Statistical Software manuals, an e-book on government financing, A Modest Proposal for America (2013), and a poetry book, Angels and Stardust (1995).